Bandura – Ukrainian folk plucked string instrument from families of harp, gusli and psaltyr. Over different time-periods dandura music occupied important place in Ukrainian art. Recent years it has been actively included to the study programs on modern art, reinventing and adding to its cultural heritage.
In 2018 a lot of projects were applied for the Ukrainian Cultural Foundation's contests which showcased actualized bandura music art. Such projects were presented in audial, cultural heritage and cultural and creative industries sectors. Here is review of winner projects dedicated to bandura and its modern context.
On October 22 "Historic concert. 100 years of Bandurist Capella" will be held as part of international cooperation project "International Bandurist Forum on occasion of 100th Anniversary of Kyiv Bandurist Capella". It is the first time when preservers of Ukrainian art from different continents and only descendants of Kyiv Capella of 1918, will gather on one stage for joint concert.
International Bandurist Forum – is Ukrainian-US project created with aim to develop and promote Ukrainian national art around the world. Forum aims to build effective platform for experience exchange between masters of bandura and choir art from Ukraine and USA in educational, scientific-research and artistic spheres. Program of the Forum also includes scientific-theoretical conference, several panel discussions, presentations of: artistic researches, modern cultural-art projects dedicated to bandura art, master-classes and workshops from leading world performers (from Ukraine, USA, Canada, Argentina, Australia) and instrument-making masters as well as joint performances of Ukrainian and American bandurists.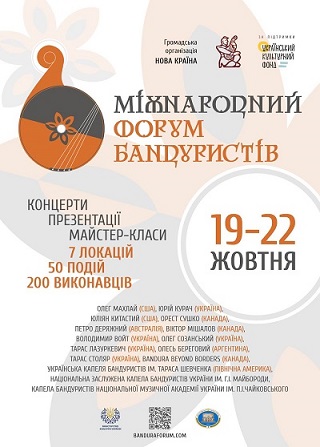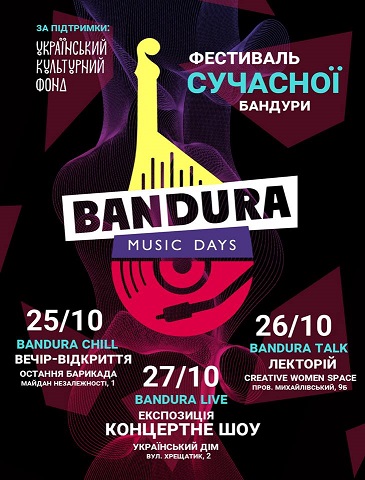 On 22-23 October Bandura Music Days 2018 start in Kyiv. Three-day festival program includes music experiments with folk instruments, interactive exposition of rare banduras and learn about electro-bandura. Organizers offer all willing visitors to build their own real bandura and take part in Ukrainian national instrument election at unique polling station. Concert program includes such performers as: finalists of TV talent-shows Marina Krut, band "Shyliasti Kobzari", as well as jazz bandurist Georgiy Matviyiv, Ppeople's artist of Ukraine Roman Grynkiv, bandurist-inventor Ivan Tkalenko, bands "Tin Sontsia", KoloYolo, Troye Zillia, B&B Project and other modern bandurists. Also, conference – open discussion and lectures for professionals on bandura art will take place within the program of the Festival.
Project "Modern bandura: creating brand and path of development" (which is supported by Ukrainian Cultural Foundation) is aimed at development of bandura as national music instrument in modern context for its future promotion as Ukrainian music brand on international level.
On 8-11 November International festival of modern bandura "Lviv Bandura Fest" will take place in Lviv. Organizers promise intense program where presentations of author printed music and concerts of performers on modern and makeshift banduras and kobzas will take place alongside traditional bandura master-classes. Also, bandura-drum show and Bandura MIX party will be held during festival .
Project is aimed for development of modern bandura in Ukraine, through support of young artists, cultural dialogue between regions, development of educational initiatives in bandura art and facilitating engagement of modern digital technologies in this cultural sphere. Lviv Bandura Fest – is music-training-educational event that unites musicians who play bandura in different styles (ethnic, rock, classics, jazz, experimental music, pop) and will create platform for experience exchange for young bandurists and again will facilitate development modern image of bandura in Ukraine and world.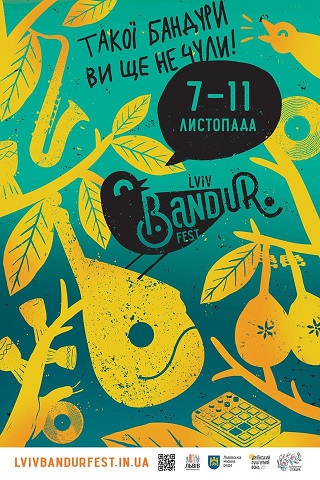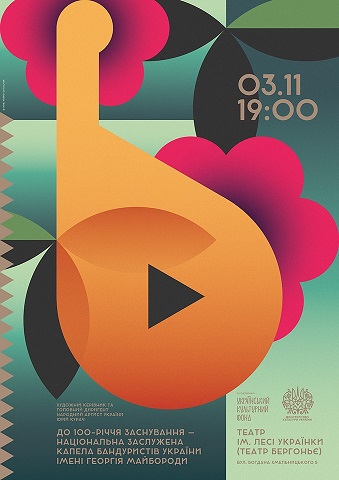 All-Ukrainian Anniversary Tour of National Ukrainian Bandurist Capella will start from the beginning of September. During the Tour organizers plan to visit all regional centers as well as big district centers of Ukraine in autumn 2018. Two long-term trips are planned, during which Capella will play around 30 concerts. In November tour will continue in West Ukraine and will finish in Zakarpattia. In Kyiv concert is planned on 3rd November.
National Bandurist Capella has its own uniqueness – all artists simultaneously sing and play banduras. Powerful celebration tour is dedicated to 100th Anniversary of Capella's founding.