On March 17th , the Ukrainian Cultural Foundation closed applications for one of the six competition programmes "Trainings. Exchanges. Residencies. Debuts - NORD" aimed to promote the exchange of knowledge, experience and ideas in the field of culture and arts, as well as the opening of new artistic practices and names. In total, 305 project applications were received.
By the number of applications submitted, the Kyiv region is leading with 132 projects. Also, among the 5 leader-regions are: Kharkiv (26), Lviv (23), Dnipro (15), Odesa (14). The same number of applications came from Rivne and Vinnitsia regions – 10. Cultural and creative industries is on the first place among the sectors, followed by the cultural heritage, visual art and performative art.
By LOTs applications were submitted as follows:
LOT "Educational Programmes" – 110 application
LOT "Mobility and Exchange Programmes" – 52 applications
LOT "Residencies" – 88 applications
LOT "Debuts" – 55 applications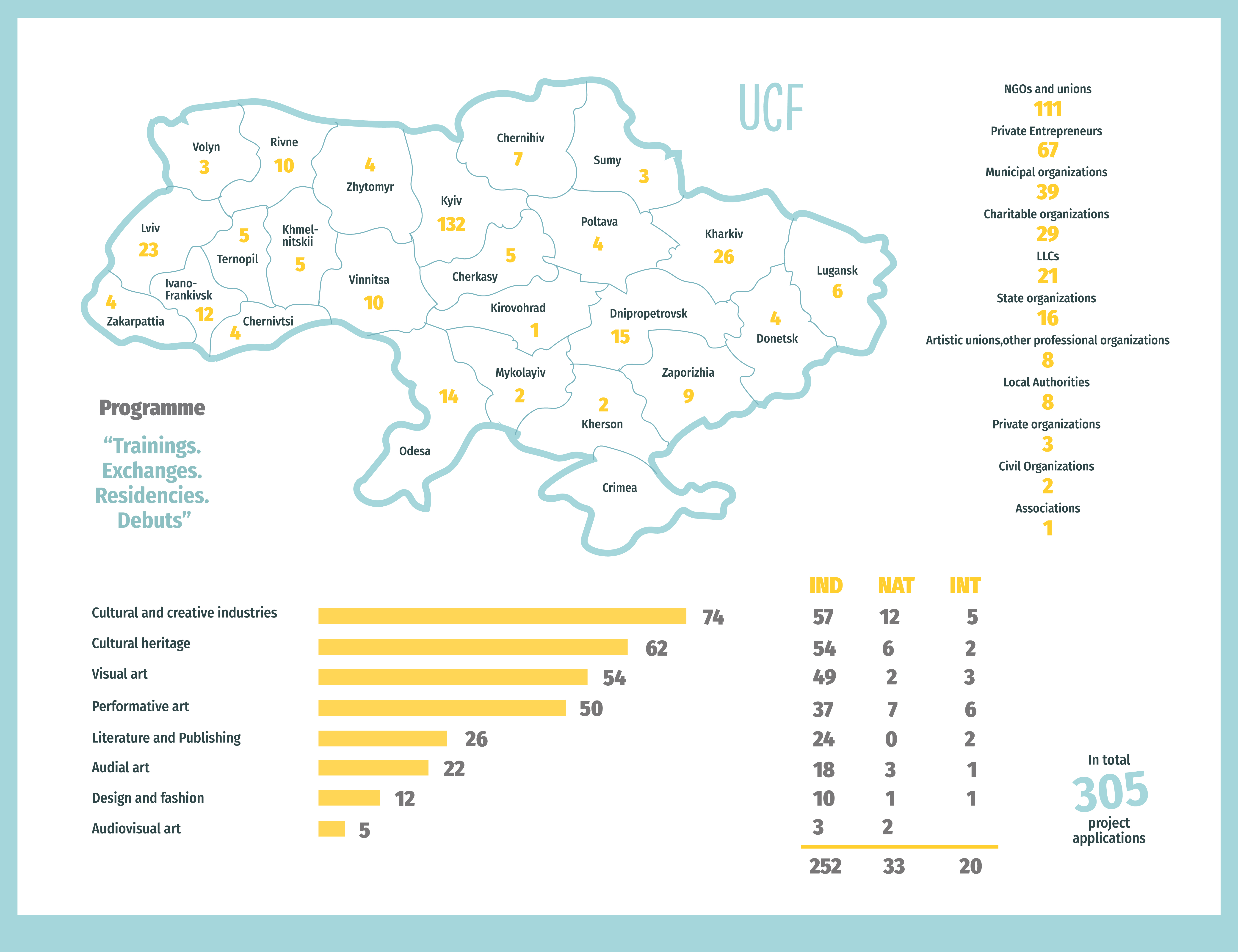 The technical selection of applications has begun. Applications that meet the technical criteria of competition will be submitted to the experts for evaluation.
We remind that this year, each project will be reviewed by experts from the according sector of the Expert Council, as well as the Financial and Communications Councils. The highest possible sum score of the evaluation is 300. Projects that will score more than 210 points will qualify for funding from the Ukrainian Cultural Foundation. The next steps will be negotiation procedures, decision on financing and signing of a Grant Agreement.