On September 9th the Ukrainian Cultural Foundation closed applications for the competition programme «Networks and Audiences» aimed at encouraging creation of sectoral and intersectoral guilds, associations, NGOs and unions to form a consolidated platform to represent the arts communities' interests in various fields. The programme shall also encourage and support the active participation of Ukrainian artists delegations and institutions in the work of international professional creative networks, improve knowledge and practical skills of project and grant management of representatives of different sectors of culture, conduct an all-Ukrainian information campaign.
Goals of the programme are: to create opportunities to expand and develop the professional knowledge and skills for representatives of the cultural and arts sectors through networking and implementation of the cultural management school, to facilitate involvement of the target audience who is interested in culture and who requires additional motivation and triggers to become a regular consumer of the cultural product and to become an active participant in socio-cultural processes by conducting an all-Ukrainian information campaign.
41 applications were received in total.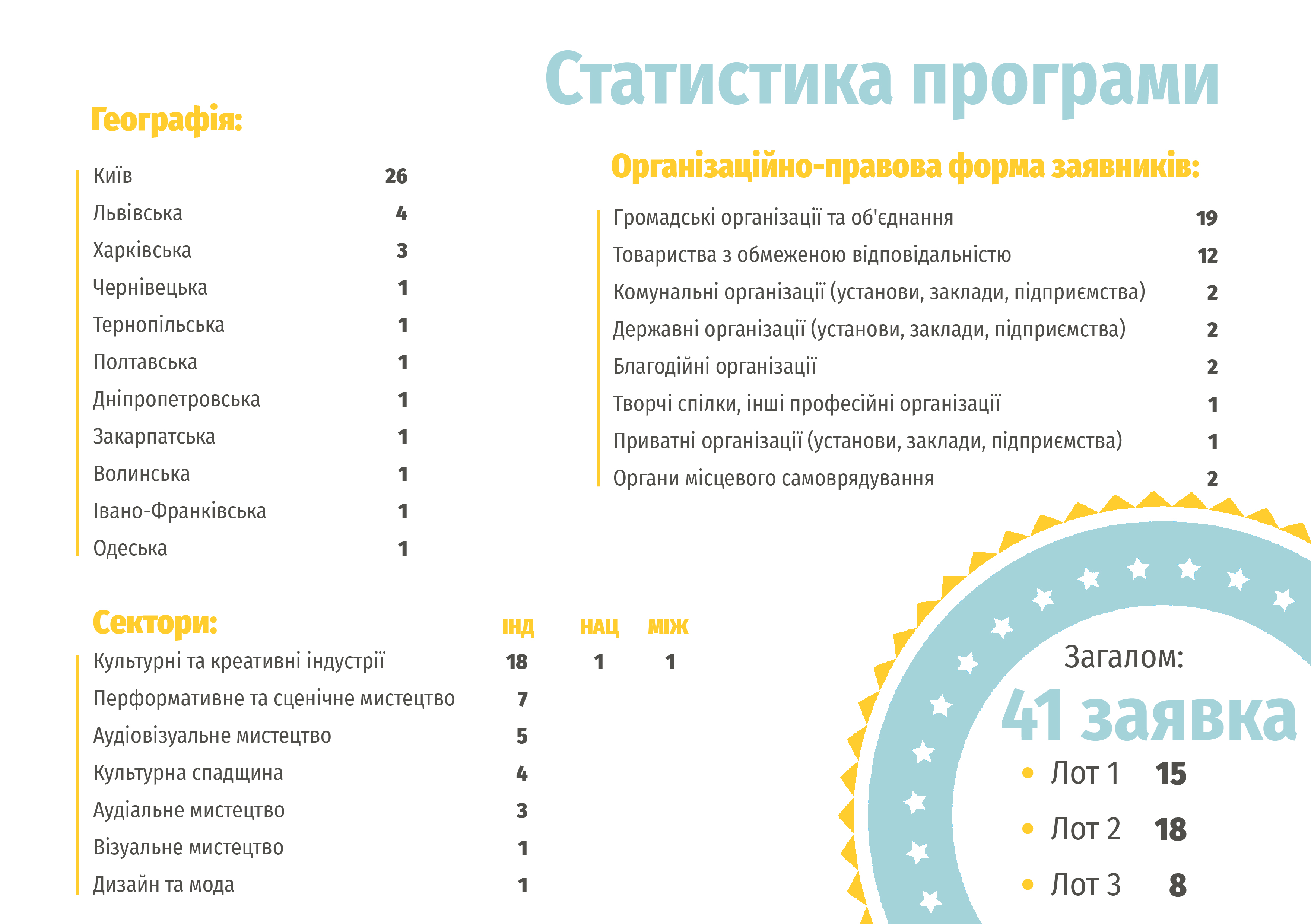 By the number of applications submitted, the Kyiv region is leading with 26 projects. Also, among the leader-regions are: Lviv (4), Kharkiv (3).
Cultural and creative industries are on the first place among the sectors (20) , followed by the performative art (7), audiovisual art (5).
The technical selection of applications has begun. Applications that meet the technical criteria of competition will be submitted to the experts for evaluation.
We remind that this year, each project will be reviewed by experts from the according sector of the Expert Council, as well as the Financial and Communications Councils. The highest possible sum score of the evaluation is 300. Projects that will score more than 210 points will qualify for funding from the Ukrainian Cultural Foundation. The next steps will be negotiation procedures, decision on financing and signing of a Grant Agreement.